The Maze

With an average time of 45 minutes, (bur we have emergency exits,) our maze is a bewildering labyrinth of twisting turns, confusing dead ends and frustrated explorers.
Puzzle Café

The Puzzle Café caters for up to 80+ guests and like the rest of A Maze'N Things is full of puzzles, games and illusions. Each table in our café has an interesting novelty item from our retail area laminated into the table surface. The café provides a range of hot and cold food and beverages of all types.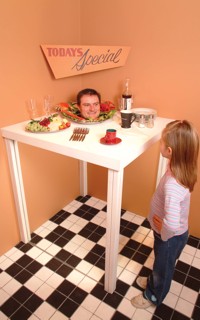 Maxi Golf

The course is set on artificial turf with constantly changing landscaping and paving. It will challenge beginners almost as much as experienced golfers. Some of the holes are surrounded by granite boulders and Australian grasses while others are designed almost like cattle shutes with large spirals at the end that sends your balls on a long and winding journey.
Retail Shop

Our shop specialises in games and puzzles. Our range includes jigsaws, wooden, plastic, adult, family, new and traditional games. We also carry a big gift and novelty range.